The hotel experience is one that must only offer the utmost luxury and provide the finest rooms, cuisine, and amenities. Guests must experience the best rooms and services, providing them with the most comfortable and relaxing environment away from the hustle and bustle of the city. The best hotels in Alabang should also offer venues for different kinds of events, including corporate meetings, debuts, and even wedding receptions.
All of these perks and amenities are a part of the overall experience, which is why choosing one of the best hotels in Alabang will ensure that you will only be provided with the greatest in terms of luxury. When it comes to the finest hotel experience, one hotel that is able to provide all of these wonderful experiences is Vivere.
What are the perks of the best hotels in Alabang?
Hotels offer perks and amenities that make any vacation or getaway destination unforgettable. Finding the right hotel that will help you experience a hassle-free stay is important. With Vivere, you would be able to experience the finest hotel lifestyle, providing perks that helped cement their status as one of the best hotels in Alabang. Here are some of the things one of the best hotels in Alabang has to offer.
First Five Star Hotel in the Metro South
Years of providing the best luxury experience for their guests and clientele has earned Vivere its status as the first 5-star hotel in the Metro South, becoming the area's premier event and vacation destination. This prestigious recognition shows the dedication of management and staff to deliver only the best experience for every guest and client.
As the first 5-star hotel in the Metro South, here are some of the services and amenities that only Vivere Hotel can provide for their guests.
Quality Venues for Events and Celebrations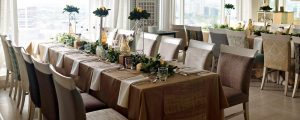 Meeting Venues
Corporate meetings and events require functional and comfortable venues. By choosing Vivere, you can arrange your meetings in one of the best hotels in Alabang. Comfortable seating and tables can be arranged to accommodate a large number of people for different kinds of corporate events and functions.
Located in one of the busiest parts of the Metro South, Vivere Hotel has been the host to a huge number of business meetings and conferences.
If you are looking for a venue to host your corporate meetings and events, Vivere offers the best selection of halls and function rooms that will surely make for a very memorable and productive experience.
Debuts
Debuts mark an important milestone for a young woman's life as she enters into adulthood. This momentous event must be celebrated in the most prestigious and grandiose manner. Vivere is the premier choice for debut venues in the Metro South, providing large spaces that can accommodate a large number of guests, along with all of the necessary equipment needed.
Guests and family will also be treated with some of the best culinary selections, with a set of menus that will surely delight and leave your guests satisfied. Vivere offers a selection of ballrooms that provide the best setting for your special moment.
Wedding Receptions
Weddings celebrate the union between a couple. It signals a new beginning for them as they set off and start their own family. A beautiful wedding must be followed by a wonderful and memorable wedding reception for the best experience, which Vivere can provide. The hotel has experience accommodating a number of newly wedded couples. Vivere knows how to provide the best for the couple and their families and guests.
Vivere is your choice for a wedding Venue in Alabang. Enjoy a diverse menu selection and accommodation for around 200 people at maximum. Guests will be treated to delicious food, with multiple course meals and buffets on offer.
The Finest Cuisine in the Metro South (The Nest)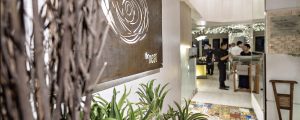 Along with providing some of the best event venues, Vivere also offers some of the most diverse cuisines through their selection of menus. The best hotels in Alabang should only aim to serve cuisine that's both quality and great value.
Different menus and unique dishes are created only to satisfy your palate. Enjoy some of the best meals at The Nest, Southeast Asia's premier destinations for quality drinks, bustling nightlife, and wonderful cuisine.
Diverse Menu Selection
Vivere has all kinds of cuisine created to satisfy and delight the senses. From classic Filipino meal staples to international entrees and desserts, Vivere provides dishes that you will surely enjoy with your friends, family, and colleagues during your special events and celebrations. This culinary experience could only be experienced at the best hotels in Alabang.
These menus include delightful appetizers, like the Vietnamese Spring Roll, Maple Glazed Chicken Breast, the Classic Sweet Potato Salad, Agedashi Tofu, and Kani Salad.
Main course dishes include Grilled Mignon, Roasted Braised Chicken, Herbed Crusted Pork Belly, Chicken ala Kyiv, Baked Salmon Fillet Normandy, Lo Han Chai, and even Pad Thai. This combination of Asian, American, and European cuisine makes for exciting menus that offer a wide range of flavors.
For dessert, Vivere offers a delightful selection that is the perfect closer for your meals. These desserts include Brazo de Mercedes, Sans Rival, Queso De Bola Cheesecake, Chocolate Moist Cake, Mango Filled Cream Puff, Tiramisu, Leche Flan, and Revel Bars. These menu sets provide the best-tasting experience that only a 5-star hotel can provide.
With this wide selection of dishes on offer, Vivere Hotel truly aims to diversify the culinary experience by offering menus that will delight your palate and show you what one of the best hotels in Alabang can offer.
Breakfast at the Nest
Along with being treated to some of the most diverse menus offered during events, hotel guests can also enjoy the best buffet cuisine on offer by spending their breakfast and lunch at The Nest. Enjoy a menu that offers classic morning staples such as crispy bacon, scrambled eggs, pancakes, French toast, pan de sal, croissants, and a cup of coffee that will surely get your morning started off the right way.
In addition to classic breakfast staples, The Nest also offers a selection of fresh fruit and Japanese cuisine in the form of ramen, miso soup, sashimi, and sushi, all of which provide a diverse set of tastes to change things up. Breakfast is the most important meal of the day, which is why going to The Nest's breakfast buffet is the ideal morning culinary option you can experience.
Breakfast at The Nest will surely get your day off to a good start, allowing you to enjoy the full 5-star experience during the rest of the day.
Fine Nightlife at the Nest
Along with providing a quality breakfast, the Nest also offers a fine dining experience with the best views of the city. Located 31 floors up the hotel, The Nest offers a breathtaking view of the Metro South that serves as a great backdrop while enjoying your meals. The selection of dinner cuisine is arranged and catered by the hotel's best chefs to serve some of the most delicious dishes with an international twist.
Enjoy the nightlife at The Nest in Vivere, one of the best hotels in Alabang. Order your favorite drinks and listen along to the amazing music from bands like Joey's Mood. Open until 12am, The Nest offers the best dinner experience by providing quality cuisine, great music, and the most breathtaking view that the Metro South has to offer.
The Best Hotel Suites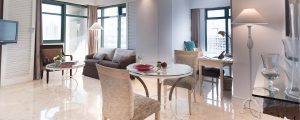 Vivere provides hotel suites that offer the best amenities, comfort, and relaxation for their guests. Vivere offers spacious and well-designed rooms that are able to accommodate a large number of guests, with comfort, relaxation, and the best view in mind.
From humble 1-bedroom suites to large, spacious rooms, Vivere offers a wide selection of rooms that guests can relax in. All suites are provided with spacious bathrooms that contain all of your sanitary needs. Some rooms are also equipped with dining areas where you can enjoy the finest dishes served in your room. These rooms also incorporate the latest in security technology, ensuring every guest will remain safe and comfortable.
If you are looking to rest and relax in one of the best hotels in Alabang, Vivere Hotel offers the finest hotel suite experience, hotel room service, the most comfortable rooms, and the most breathtaking views.
Book the Finest Hotel Experience in the Metro South With Vivere
Serving the finest hotel experience is a challenge that everyone in the hospitality industry faces. With Vivere Hotel, you are guaranteed that you will only experience the best of what hotel living has to offer. Enjoy the finest international cuisine and the most breathtaking views of the Metro South to the most comfortable and relaxing suites.
Experiencing rest and relaxation in one of the best hotels in Manila for staycation is now more accessible than ever. Booking a room and reserving your event space can now be done online. Book now and enjoy the best amenities and services of the first 5-star hotel in the Metro South.
With years of experience in serving a diverse range of guests and clientele, Vivere Hotel has grown and become the finest hotel in the Metro South, garnering a 5-star status as a symbol of their dedication and commitment to providing the best service and experience. The Vivere experience is one of luxury and relaxation, which is why booking your experience now allows you to experience all of what the Metro South has to offer.
For more information about our wonderful dining experience, you can click here to find out more. If you want to learn how to create the best and most memorable events for your friends and family, click here. For more information about meetings and venues, you can click here to see which is the best space for your event. For more information about our services, packages, and available rooms and venues, you can contact us and we will provide you with all of the information that will help show you why our hotel provides the best experience for you and your colleagues.