If you're looking for a place to stay, you don't have to look too far. Hotels in Muntinlupa, are one of the most desirable places to have a staycation in. Vivere, one of the most popular hotels in Muntinlupa, have been receiving high praises from its customers because of its cozy atmosphere, great food, and hospitable staff.
Also known as a popular event venue in Alabang, its delicious food and charming ambiance will be the best reasons to keep coming back to this luxurious hotel. You can immerse yourselves with the tranquil ambiance of the south and enjoy the beautiful green scenery that surrounds this simple city. If you aren't too sure about spending your staycation at Vivere, we've interviewed 8 influencers to help you out.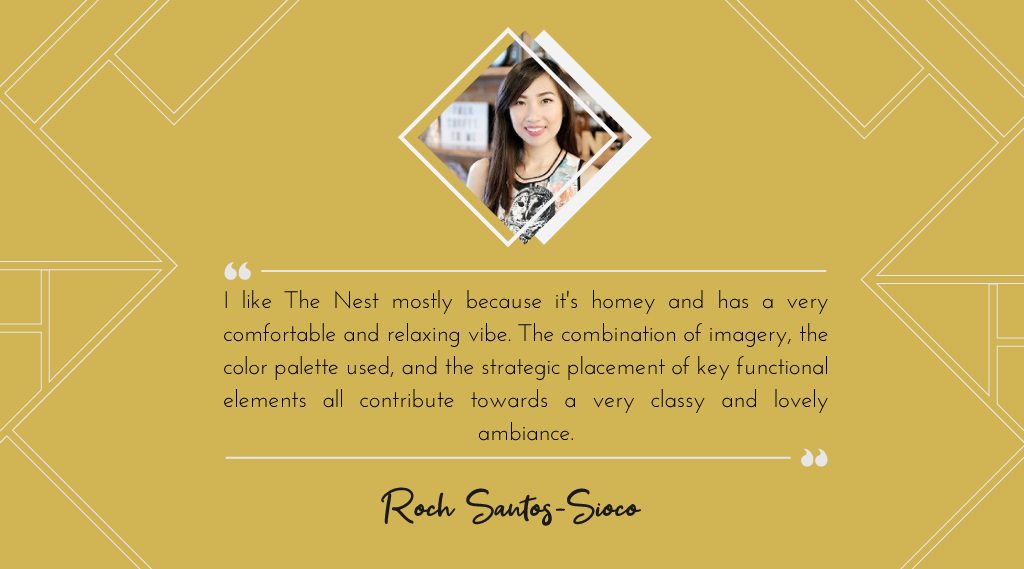 Roch Santos-Sioco
Roch is a digital marketing strategist, blogger, and the mastermind of Rochkirstin.com. Known for her lifestyle, food, and travel blogs, you can definitely trust her word about the things she gives reviews on.
Although she hasn't had the chance to have a staycation in Vivere Hotel, she has dined in The Nest back in 2015. The first time she ate at The Nest was a memorable dining experience with her friends. Her second visit was to celebrate the wedding anniversary of her parents. Here's what she has to say about Vivere Hotel's The Nest:
"I like The Nest mostly because it's homey and has a very comfortable and relaxing vibe. The combination of imagery, the color palette used, and the strategic placement of key functional elements all contribute towards a very classy and lovely ambiance."
Top food recommendations by Roch are The Nest's Beef Salpicao, Buffalo Chicken Wings, and Crispy Binagoongan. She described every dish to have been delectable and elegantly presented. In addition, the restaurant staff were both professional and kind. The lighting, table arrangements, and quiet room make The Nest an ideal place for romantic dates, casual family dinners, business meetings, feasts and holiday celebrations, according to Roch.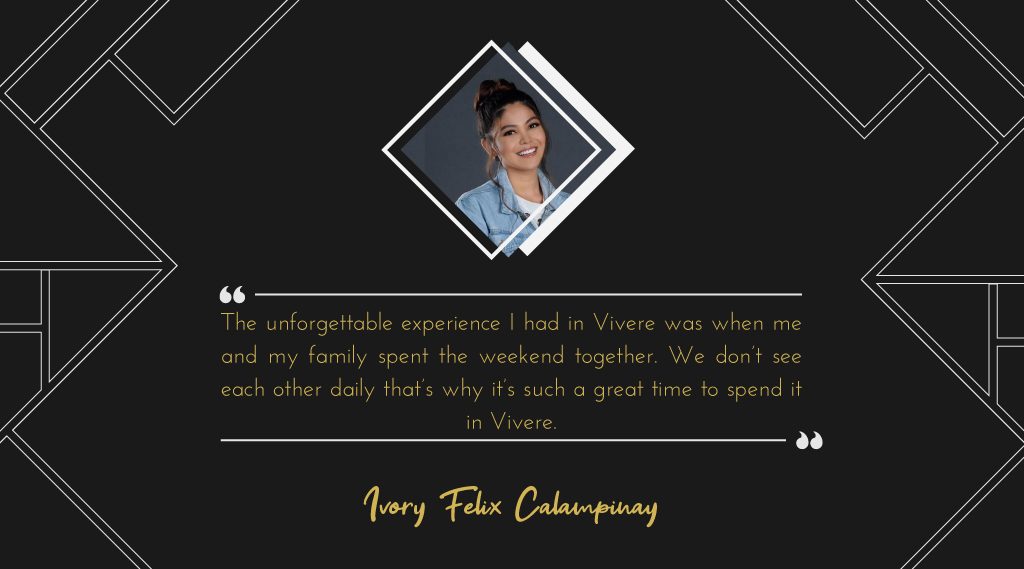 Ivory Felix Calampinay
Ivory is GMA's young rising star, crowned as Eat Bulaga's Miss Millennial Philippines 2018 – Malabon, Mutya ng Malabon 2018, and Miss University of the East 2018 (Caloocan Campus), Ivory is a free-spirited adventurer who enjoys her time away from the confines of her own home. Because of this, she knows what it's like to stay in the best resorts and hotels in the country. Thankfully, the stunner from the north has come down south to share her hotel experience.
Ivory absolutely loved the room she stayed in at the Vivere hotel. The clear blue-sky out her window and the cozy living room captured her heart. She even expressed how much she loved the overall design of the rooms. Ivory even highlighted how much she loved looking out the window to appreciate the view in the morning.
"The unforgettable experience I had in Vivere was when me and my family spent the weekend together. We don't see each other daily that's why it's such a great time to spend it in Vivere."
In terms of Vivere's gastronomy, she suggests, having the Vivere Caesar's Salad, with additional grilled shrimp. She exclaimed that the grilled shrimp was the perfect addition to the salad because it added to the salad's taste and color. This pleased Ivory very much because she always appreciates a well-presented dish.
The staff's hospitality and service was a 5-star highlight of Ivory's stay. She said that it made staying in Vivere more wonderful, knowing that she was surrounded by people who are all smiles, even the security guards.
All-in-all, her stay was nothing but perfection. According to her, Vivere hotel is the right venue for relaxation, bondings, and a perfect place to unwind. It's accessible to reach, which makes everything better. This is proven true by Ivory because she says that she can't wait to get the chance to come back and stay at Vivere again.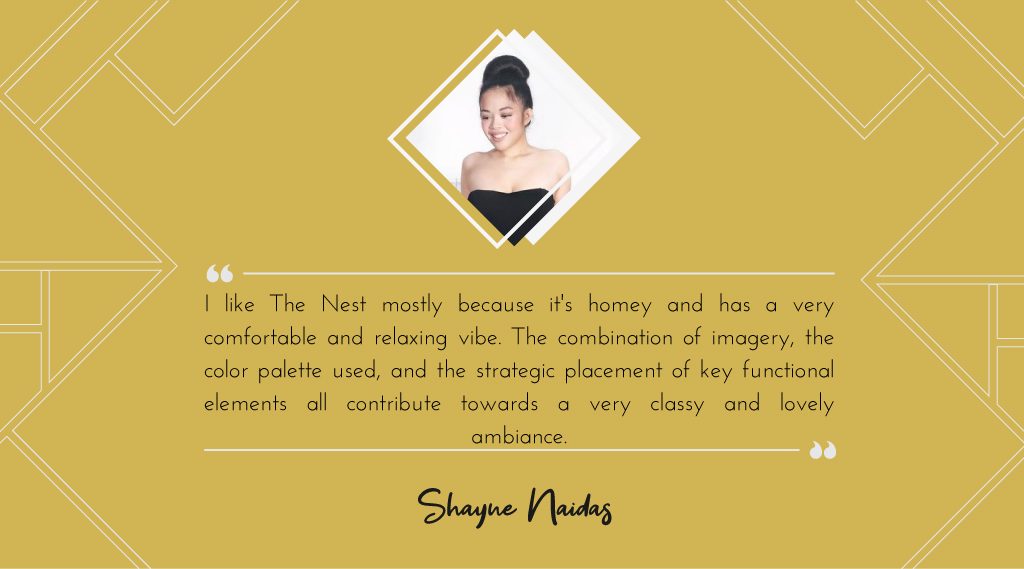 Shayne Naidas
Shayne Naidas is a beauty, fashion, and lifestyle-related blogger and a digital influencer whose mission-vision is to promote creativity and positivity with her words. Not only does she want to provide her readers with information, her goal is also to inspire them. Best known for her inspiring words and makeup reviews, Shayne knows more than a thing or two about wandering around the county's resorts and hotels.
Shayne has checked in to Vivere several times because according to her, she never gets tired of the interior design of the hotel. This is no surprise since the homey atmosphere of the hotel can help anybody relax and unwind as their heads fall toward the soft and cozy bed. A moment that stood out for her was when she had breakfast at the rooftop, the feeling of having the wind in her hair while eating a hearty breakfast was a unique and refreshing experience, according to Shayne.
Another unforgettable moment for Shayne was when her church organized a sleepover event at the Vivere. At the time, Vivere was newly built, and together with her church-mates, they were all excited to finally have a nice and cozy hotel to stay in at the South that is easily accessible. At that sleepover event, Shayne had wonderful times with her friends at the rooftop pool.
"My favorite food to order at The Nest Vivere are their seafood dishes. They used to make delicious grilled Prawns that I wish they would bring back to their menu."
Quick service is one thing that Shayne really loves about Vivere, whether it's room service or food delivery, you can always expect the staff of Vivere to be fast and well accommodating. Shayne summarized all of her experiences with Vivere hotels as comfortable and relaxing. Its ambiance is perfect for a place to chill out, enjoy great food, and feel the comfort of the south.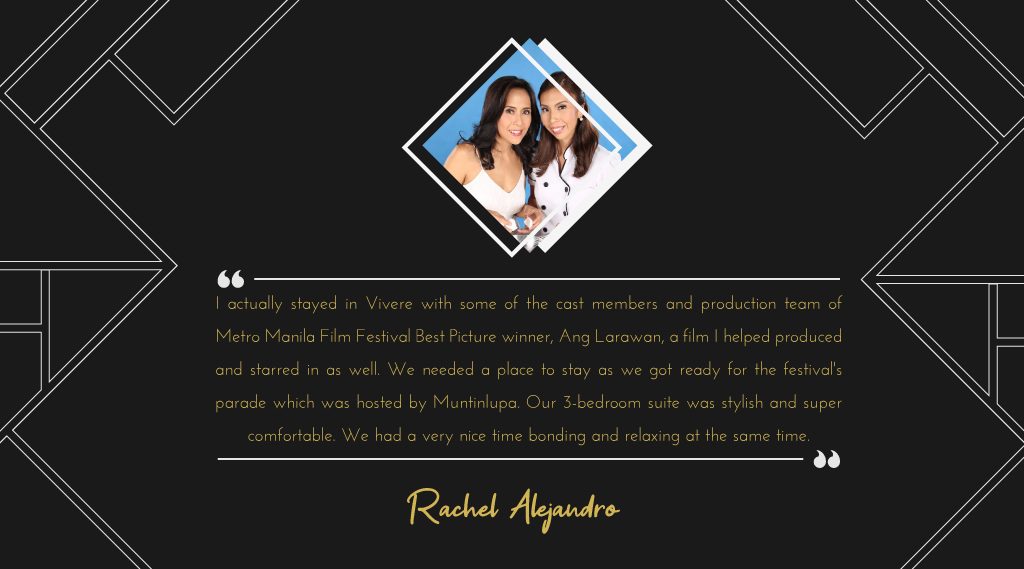 Rachel Alejandro
Website | Facebook | Instagram
Rachel is a platinum recording artist, actress, performer, and co-owner of Manila's top health food delivery company, The Sexy Chef. She has co-written and published 3 healthy lifestyle books alongside her sister, Chef Barni Alejandro. The sisters have pioneered delivering nutritious meals for health-buff Manila residents and office persons. This sexy chef has a lot of delightful memories to share about Vivere hotels.
Rachel's favorite part about her brief stay at Vivere was dining at The Nest. She visited Vivere with her fellow cast members and the production team behind the award-winning film, Ang Larawan. She was delighted to have found some delicious low-carb food options in the menu that were perfect for her mid-afternoon snack.
"I actually stayed in Vivere with some cast members and production team of Metro Manila Film Festival Best Picture winner, Ang Larawan, a film I helped produced and starred in as well. We needed a place to stay as we got ready for the festival's parade which was hosted by Muntinlupa. Our 3-bedroom suite was stylish and super comfortable. We had a very nice time bonding and relaxing at the same time."
Rachel recommends having The Nest's Gambas, which is garlicky and according to her, is the perfect ketogenic diet meal. Another dish that Rachel enjoyed was the mushroom soup. She described it as very flavorful and super decadent. You can trust that these dishes would be good because those are the words from an amazing chef.
More than good food and a posh experience, what also stood out the most is the hotel staff's helpfulness and friendliness is commendable as they are always willing to listen to your every request. Rachel was happy to note that the waiter who attended to her at The Nest was very familiar with the ingredients of the food she ordered.
The suites are perfect for family staycations because of the spacious living room of Vivere hotel's rooms. Rachel said that her only regret was not being able to stay the night at Vivere. She was very busy with promoting her movie which was opening on Christmas day and making last minute preparations for Noche Buena and for family get-togethers. With this, Rachel has promised that she will definitely find the time to visit Vivere in the near future.
Diorella Regine Angeles-Leaño
The model and actress started her showbiz career after winning the Be Bench The Model Search of ABS-CBN. She is also one of ABS-CBN's Star Magic talents. Diorella Regine Angeles-Leaño loves spending her vacations out of town and also enjoys having staycations as a quick weekend getaway. For this, we asked her to share her insights and experiences at Vivere hotels.
The hotel's overall ambiance is what captured Regine's heart because according to the actress, she is a fan of contemporary hotels. But surprisingly, the classic design of Vivere hotels attracted Regine as she described it as a breath of fresh air. She pointed out that the interior's clean white crisp design is pleasing to the eyes.
A moment at Vivere that she would never forget was her dining experience at The Nest. The young actress summed this up into one word: "Unforgettable". She described the beautiful rooftop view as refreshing because you can see Laguna de bay and the picturesque skyline of Alabang. At night, The Nest's ambiance is very romantic, said Regine.
Amongst the amazing service and delicious food at The Nest, it was the Crispy Pork Binagoongan that stood out for Regine. As she described her food recommendation as, "It is simply the best", you can trust that it really is.
Also, Regine loved how accommodating the staff of Vivere is. They're quick, and never fail to follow through with any requests. The very reason behind this is because Vivere's service is impeccable as every staff member is all smiles and very friendly.
Overall, Regine's family staycation at Vivere was a blast! She said that her son Alesso had such a splendid time too because he got to use the kid's playroom at Vivere hotels. She said that she will be looking forward to their next staycation at Vivere hotels.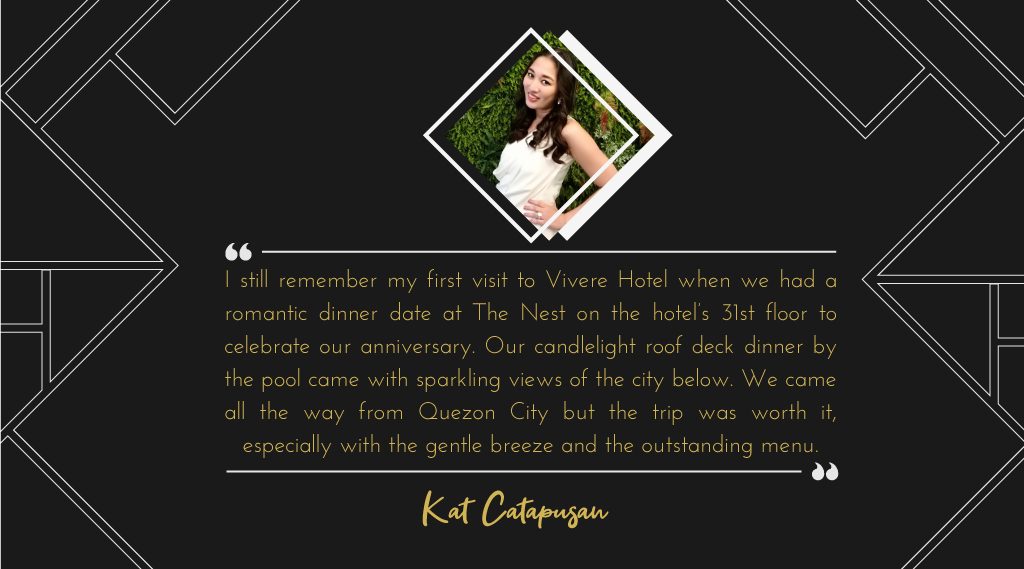 Kat Catapusan
Website | Facebook | Instagram |  Twitter
Kat Catapusan is One of Dove's ten outstanding women for their Dove Glowing Skin campaign, she is part-time model, part-time social advocate, and a full-time foodie with an insatiable thirst for life. Kat is known to be a health warrior and a lupus survivor. This adventure-seeking model frequents hotels, resorts, and restaurants around the country.
Here's what Kat has to say about Vivere hotels:
For Kat, two of the best features of Vivere hotels are the hotel's grand majestic lobby and its spacious rooms and suites. Kat points out that the elegant tropical setting of the hotel, with its tall trees and water features are unlike any other hotel she's visited. For her, the exquisite experience's continuity extends to the relaxing suites. It feels like a home away from home, says Kat, the rooms even come with its own kitchen and dining areas.
"I still remember my first visit to Vivere Hotel when we had a romantic dinner date at The Nest on the hotel's 31st floor to celebrate our anniversary. Our candlelight roof deck dinner by the pool came with sparkling views of the city below. We came all the way from Quezon City but the trip was worth it, especially with the gentle breeze and the outstanding menu."
At The Nest, Kat's favorite dishes are the Hickory Pork Ribs, Surf and Turf, and the Manila Burger. She usually pairs these food selections with some cocktails like Whiskey Sour or one of the available shakes like the Choco Banana Milkshake. Because dining at the Nest comes with excellent five-star service from the staff, her dinner dates are always memorable due to the impeccable service of the staff according to Kat. It also helps that on some nights, The Nest holds live performances which amplify the romantic experience.
Her overall experience at Vivere was marvelous! She loves the free breakfast buffet at The Nest. She also stated that she enjoys the room's spacious dining areas because it's easy to bring their own food and drinks to complete their staycation experience. She also pointed out that it's easy to park and that the check in procedures are quick. One thing that she wishes she had used was Vivere's swimming pool, so he next time she checks in, she'll take definitely take a dive in the pool, said Kat.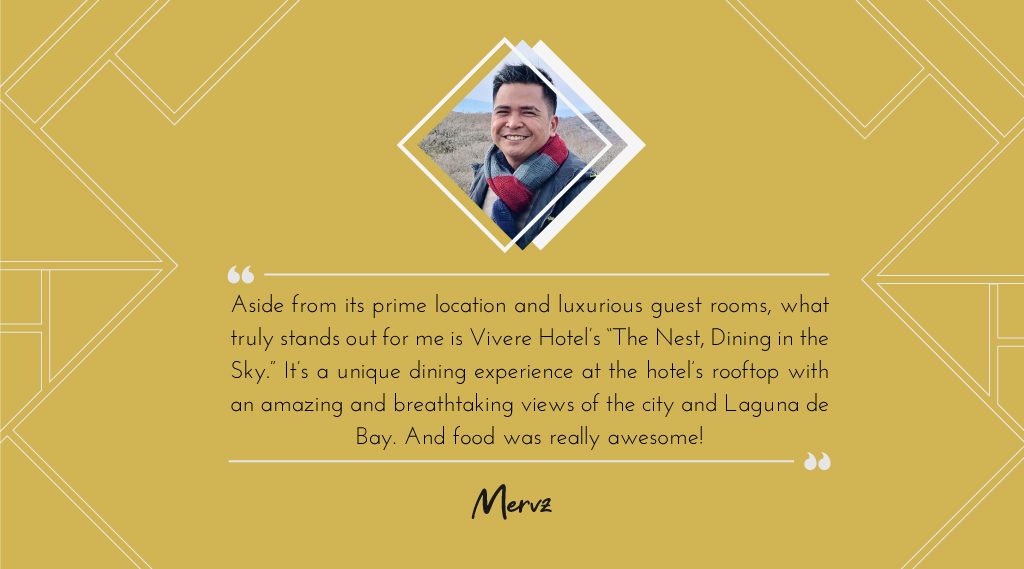 Mervz
Website | Facebook | Instagram | Twitter
If you want to know about the best places to be in the Philippines, there's no better person to ask than the man who created pinoyadventurista.com, Mervz. He is the ultimate Filipino adventure so when it comes to reviewing Vivere hotels, you can trust everything that he knows what he's talking about.
"Aside from its prime location and luxurious guest rooms, what truly stands out for me is Vivere Hotel's "The Nest, Dining in the Sky." It's a unique dining experience at the hotel's rooftop with an amazing and breathtaking views of the city and Laguna de Bay. And food was really awesome!"
Mervz loves how cozy and spacious the rooms of Vivere hotels are. On top of everything, he notes that their hotel service is superb. With great facilities and impeccable customer service, nothing can beat Vivere hotels. After all, a very memorable experience for the avid adventurer is how well the staff takes care of every customer's needs.
When it comes to food, Vivere's Korean barbecue set is a must-try, according to Mervz. The delightful ensemble of barbecued chicken thigh fillet and thinly sliced beef short ribs paired with a set of 3 Korean vegetable condiments and steamed rice are perfect. Mervz loves how tender and flavorful the beef is. Though quite on the hot side in terms of his taste, they're tremendous dishes.
He can never stop talking about the outstanding services of Vivere hotels. The staff is very accommodating and helpful. Anytime that he is in need of assistance, the front desk is just a quick phone call away and always ready to attend to his needs. A highlight from his stay is how the security guards would always happily help him out whenever he needed assistance with directions. According to Mervz, that's one of Vivere's key assets, their highly-commendable staff.
Overall, Mervz had a truly awesome and memorable stay at Vivere. Great food, unsullied customer service, and cozy suites make this hotel the best in the south. Whether you stay for leisure or for business, Mervz recommends this hotel to everyone. He gives his two thumbs up for Vivere and calls it his "home" in the south.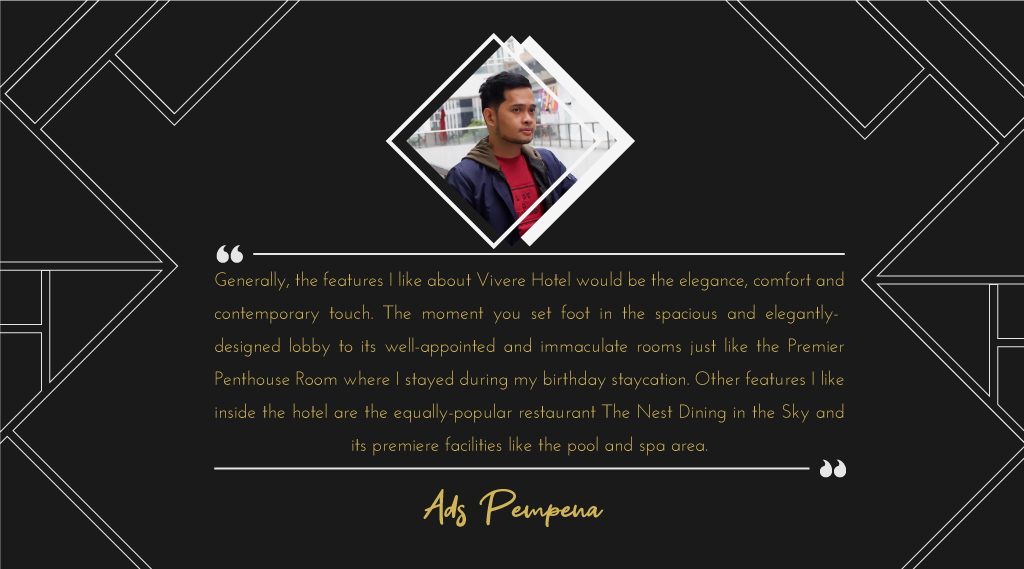 Ads Pempena
Ads Pempena is an entrepreneur, adventurer, blogger/influencer, foodie, and a man for others. His blog Ads the Great is his way to have his voice heard by the people about the wonders of local cuisine, hotels, and the latest in lifestyle trends. We asked him about his experience with Vivere hotels and here's what he has to say:
"Generally, the features I like about Vivere Hotel would be the elegance, comfort and contemporary touch. The moment you set foot in the spacious and elegantly-designed lobby to its well-appointed and immaculate rooms just like the Premier Penthouse Room where I stayed during my birthday staycation. Other features I like inside the hotel are the equally-popular restaurant The Nest Dining in the Sky and its premiere facilities like the pool and spa area."
The topnotch accommodation, delectably-prepared food offerings and the utmost care and attention from management, front-office, food staff, and everyone else has made his birthday staycation experience at Vivere memorable. For Ads, nothing beats outstanding service and proactive staff who are always willing to help out.
Ads enjoyed the extensive range and satisfying line up of dishes for breakfast, which is complimentary for two. He enjoyed every dish that he tried during his stay. But what stood out for the influencer is the sumptuous executive set which he had for dinner. Ads suggests hanging by the bar for some cocktails to set-up a nightlife mood.
Nothing but commendations and praise came from Ads when Vivere's service is being spoken about. He exclaimed that their services are remarkable and well-regarded. Until now, he can't forget about how well the hotel staff took care of him during his two-day staycation.
He expresses that his overall experience was awesome and restfully-relaxing. According to Ads, Vivere hotels is the perfect place for soulful and relaxing moments with your loved ones. The topnotch accommodations has left a lasting impression on him. The hotel fosters an idyllic and exceptional hospitality experience amidst the cosmopolitan and bustling lifestyle in the metro.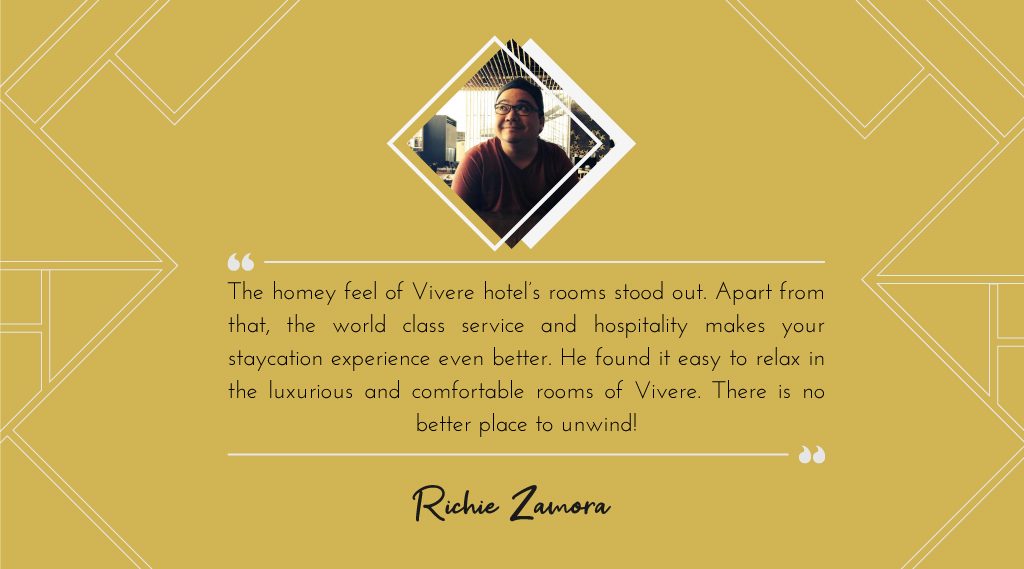 Richie Zamora
Website | Facebook | Instagram | Twitter | Youtube
Richie Zamora is the man behind the Pickiesteater.net. He is a passionate foodie and is very well-known for his food reviews, travel vlogs, and for showing everyone the best places to eat and to relax. We asked him about his stay in Vivere hotels and here's what the famous food blogger has to say.
Richie said that the homey feel of Vivere hotel's rooms stood out. Apart from that, the world-class service and hospitality makes your staycation experience even better. He found it easy to relax in the luxurious and comfortable rooms of Vivere. There is no better place to unwind, according to Richie.
He stayed in Vivere with a big group, they were composed of roughly five different families. What made the experience unforgettable for his group was how convenient it was for the parents to relax while their children enjoyed playing around the pool area. Another great thing about Vivere hotels is that it's really near malls and shopping centers, said Richie.
The foodie enjoyed the breakfast buffet at The Nest. He pointed out the diverse selection of dishes went well with one another. He pointed out that what he enjoyed the most was the breakfast buffet's huge pile of bacon. You can never go wrong with bacon.
The service of Vivere is undoubtedly the finest in the country, according to Richie. The staff is very courteous and welcoming. He loved how every member of the hotel's staff would go out of their way to make sure everyone had an amazing stay. That's what truly makes hotel experiences memorable, said Richie.
Overall, Richie had a blast! His stay was amazing, and he would go back in a heartbeat. Sadly, he hasn't been able to venture down south for quite some time, but whenever people ask him for hotel referrals in the south, Vivere is always at the top of his mind.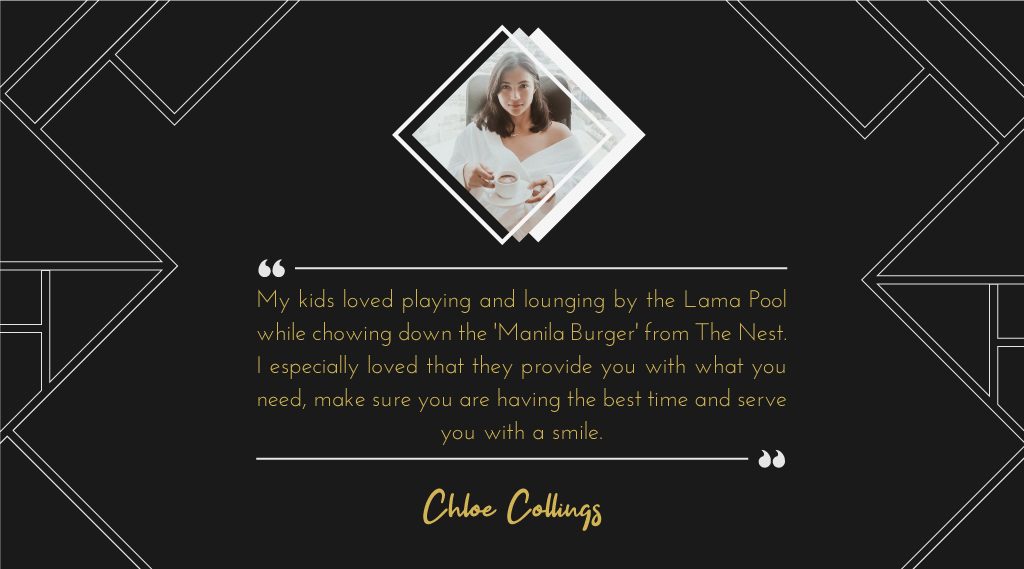 Chloe Collings
Chloe Collings is known for her huge following on Instagram and her dreamy travel photography. This traveler's insatiable wanderlust has produced a collection of wonderful shots that can be viewed on her Instagram account.
Vivere Hotel & Resort offers a lush break from the hustle & bustle of city living. With its spacious rooms, well-equipped kitchenette and large windows providing a very good view of Laguna De Bay. My kids loved playing and lounging by the Lama Pool while chowing down the 'Manila Burger' from The Nest. I especially loved that they provide you with what you need, make sure you are having the best time and serve you with a smile.
Key Takeaway
Every customer of Vivere hotels never fails to mention the unsullied service, cozy rooms, amazing quality as an event venue in Alabang, and great food at The Nest. It is the perfect staycation hotel for a group of friends or families.
We've heard it from avid travelers, food enthusiast, and adventure-seekers. Vivere stands out as the South's best hotel to stay in for your southern staycation. Vivere hotels also serves as a great event venue in Alabang. This place truly has it all.